Hope is on its way…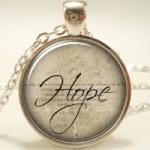 Hope deferred makes the heart grow weak … so true! I have lived in a place of hopelessness for a fairly long season. Thoughts that did not belong took up a prominent place in my mind. I grew weary and I thought I would never pull out of it.
But God had other plans, He knows me and He wants me to be all that He made me to be. He has His own thoughts about me. I am His glory, I am His daughter, I am His prized possession. I have been given life and His heart beats for me to be alive right here right now. It's time! I can no longer be silent; I can no longer stay in this place of confusion and defeat. I am an overcomer and I will bring incredible praise and glory to God, my Father, as I rise up and join with Him in all that He is doing on the earth.
What about you? Are you living and alive or are you existing and simply taking up space on this earth? 🙂  If you fall into the simply existing category than I want to encourage you to believe some powerful things God is saying to you.
"You are Mine. I put My very own thought and effort into who I made you to be. I am so proud of you. I delight in you and I desire to see you discover all the amazing attributes I put in you. Stand up and stand tall. You are everything I intended for you to be. I love everything about you!" ~ God
I really encourage you to take a moment and let these words wash over you and let hope be stirred so you can stand and you can begin to live Real.Life.Now. It will be worth it because you were made for it!
---
**If you would like to receive new blog post via email simply enter your email address below.**