Life's Greatest Disappointment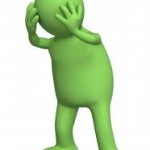 I was thinking this morning about how much God enjoys being in relationship with us.  He loves to be in ALL aspects of our lives, big and small.  Since the beginning of time He has been concerned with our proximity with Him.  When He created man He took great delight in walking and talking with him in the garden.
We all know and can think of things in life that have been big disappointments for us.  We may have had ministry disappointments, let downs in relationships, children who have not walked according to our expectations, a failed marriage, financial disaster, etc.  The list of life's disappointments is endless.  But what hit me today is the great disappointment God must have had to deal with when Adam and Eve chose to eat of the fruit therefore putting a huge chasm between them and God.  This incident brought shame and condemnation into a beautiful setting that God had dreamed up because He is so relational.  Now Adam and Eve, the ones created in the very image of Father God, did not dare meet with Him, fellowship with Him, or be real with Him.  They were ashamed and they hid.  They hid from all He desired for them.  What a great disappointment this must have been.
But as we all know, that is not the end of the story.  God worked out all things for good because He desired for us to rule and reign with Him.  He did not want to rule over the earth alone.  Jesus Christ, His one and only Son, was the perfect and complete sacrifice righting all that had gone wrong.  But disappointment still remains today because many who know and love Him do not understand how complete of a work was done on the cross.  We live ashamed, always trying to be better, when the truth is simple, there is no longer anything standing in the way of a close relationship with God.  Sin was dealt with on the cross and it can no longer separate us from an intimate face to face relationship with God.  We are clothed in righteousness, radiating the glory of God to a world He created for us to rule and reign in.
What is keeping you from understanding the finished work of the cross?  Are you trying to be a better person so God will accept you?  Are you believing you have to do more or know more so you can have that desired relationship with God?  Are you believing lies that you are not completely forgiven of past sins?  The simple truth is that there is NOTHING separating you from God anymore…except maybe…you.  He has done it all.  He has already dealt with His disappointment.  It is gone and in it's place is the greatest hope imaginable.  A hope that you will know and believe He accepts and loves you completely just as you are.  A hope that you will turn your face towards Him and live your life face to face with Him.   You were created for this.
Imagine yourself right now turning your face and looking into His face.  He is right there waiting.   Take a moment and allow His peace and affirmation to penetrate.  Don't wait a moment longer.  He wants this even more than you do.
**If you would like to be notified when I post a new blog, please enter your email and press the "Follow Me" button on the right side of this post.**