There's a Light at the End of this Tunnel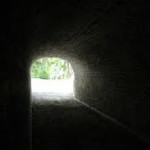 The title of this blog is the name of a song by Third Day.   It's the kind of song where the lyrics go through your mind over and over and you find yourself singing it without even realizing it.  As I was pondering this morning the past few weeks of my life I thought this song was apropos.  It reminds me of a promise God has gives us in the Scriptures.  He promises to not give us more than we can handle by always giving us a way to get through trying times in life.  The verse is I Corinthians 10:13 and it is one I have known for a long, long time.
I memorized the verse from the NIV, which is probably the wording most of us are familiar with.  It reads:
No temptation has seized you except what is common to man. And God is faithful; he will not let you be tempted beyond what you can bear. But when you are tempted, he will also provide a way out so that you can stand up under it.
In lieu of this wording I really only thought to apply God's promise to provide a way of escape to the times I was facing temptation UNTIL the Holy Spirit kept bringing the verse to mind in everyday life as I was facing hardships, struggling with ongoing situations and even uncertainty about my future.  I certainly would have never considered these temptations.  But then I read the verse in a few other versions and the Amplified version opened my eyes to something powerful.  It says:
For no temptation (no trial regarded as enticing to sin), [no matter how it comes or where it leads] has overtaken you and laid hold on you that is not common to man [that is, no temptation or trial has come to you that is beyond human resistance and that is not adjusted and adapted and belonging to human experience, and such as man can bear]. But God is faithful [to His Word and to His compassionate nature], and He [can be trusted] not to let you be tempted and tried and assayed beyond your ability and strength of resistance and power to endure, but with the temptation He will [always] also provide the way out (the means of escape to a landing place), that you may be capable and strong and powerful to bear up under it patiently.  (You may want to read this a few times!)
The first part defines a temptation as a "trial regarded as enticing to sin."  Recently I have learned that the definition of sin for us under the New Covenant is anything that keeps us or hinders us from walking in the new creation we are in Christ.  God considers sin to be that which disables us to see who we truly are in Him and live from that.  We are new creations!  So anything that keeps us from this is considered a temptation and therefore God promises a way out or a way of escape.  So basically God desires to provide the way out of any situation, mindset, thought pattern, trial, attack, etc., that we face in our lives.
This verse is rich for us in a few other ways too.  It reminds us that nothing we experience is unique to us alone.  The NLT says, "The temptations in your life are no different from what others experience."  So if you think that absolutely no one can relate to you, then you are believing a lie.  One of the tactics of the enemy is to isolate us and to make us think that no one else can understand what we are going through.  If you find yourself in this place and thinking this way you have to replace the lie with the truth.  The truth is: "The temptations in your life are no different from what others experience."  Read it again slowly if you need to.  It is my desire to share truth that will allow you to experience Real. Life. Now.  I needed to deeply grasp this and you might too.  When you expose wrongs to the light the darkness has to flee.  The truth will set you free!
The last thing I want to highlight is that it is God who provides a way of escape and this requires us to seek Him and trust Him to come through for us.  I find it is so easy to think, analyze and come up with every possible probable scenario imaginable that just might fix things but this is not letting God come through for me with His promise.  I am learning to stop my mind from incessant chatter and supposed solutions, instead looking to Him, trusting Him, asking Him for His thoughts and wisdom and then waiting on Him to fulfill His promise to me.  He WILL provide a way of escape!  We are His sheep and we hear His voice.  We just need to give Him a chance and tune in to hear Him.
I hope you have been encouraged by reading this.  You are of utmost value to God and He wants to be your Father and provide for you and protect you from all that keeps you from being the beautiful person He lovingly created you to be.  He wants to make good the promises He has given you so that you can live Real. Life. Now.   There is ALWAYS a light at the end of every tunnel because God ALWAYS provides a way of escape because He loves you more than you can possible imagine!
**If you would like to be notified when I post a new blog, please enter your email and press the "Follow Me" button on the right side of this post.**