Whom Shall I Serve…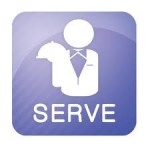 I was thinking today about the role we have as believers to serve God and the Body of Christ.  I have always been taught to serve God above all else.  As I pondered serving God I became aware that I was not quite settled with the concept and began questioning what I believed concerning 'serving' God.   Over the recent years as I have come to understand more fully who I am in Christ I have uncovered many, many things that continue to keep me from fully embracing who I am in God's eyes.  I think this is why I was a bit disturbed at the phrase 'to serve God.'
At dictionary.com the word serve means "to act as a servant, to render assistance, to be of use."  Is this what God wants from us?  Does He want us to 'act as a servant' to Him?  Are we to continually come before Him to 'render' Him our assistance?  How many times do we even actually pray, "Father, use me."  Do we even realize what we are saying?  Who of us likes to be used?  What Father would delight in 'using' his children?  Not a good one, that is for sure.  So why do we elevate serving God to the degree that we do?  I think it is a religious phrase that sounds good and makes us think we are on the right track when actually we have settled for something less than the best.
Under the New Covenant we are called sons and daughters of God, no longer servants, but friends.  So I looked up a few New Testament scriptures* and found that the original word used to instruct us to serve God actually was informing us to 'worship' Him.  As I thought about this I felt a fresh wave of love hit me from the Father encouraging me to let the truth of this sink in.  I am not called to serve Him but to love, adore and worship Him.  The word serve was probably the best word the translators could come up with when they translated the Greek words, lateuomen and lauteuo.  With this word choice many other things are attached, often long lists of duties and other requirements.  But God is not requiring this from us.  We are human-beings not human-doings.  We are loved for who we are not for what we do.  We are sons and daughters, not servants.  First and foremost God longs for us to know that He is our Father and that He wants to be in relationship with us.  He does not want us to fall into thinking that we must serve Him or do for Him, He wants our love and worship.  He just wants us.  If you never do one more thing for Him, He will still love you the same.
Take a moment and ask yourself this question:  Do I believe God loves me for who I am or for what I do for Him?  It really does matter what you believe.
*Hebrews 12:28, Romans 1:9, II Timothy 1:3 – This are the verses I looked up when I referenced serving God.  This is not an exhaustive list.
**If you would like to be notified when I post a new blog, please enter your email and press the "Follow Me" button on the right side of this post.**