Old Heart Wounds Exposed…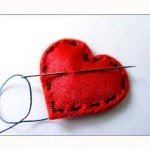 It's so funny how often we do not understand what we are asking God for.  I have been asking Him to show me how to experience Real. Life. Now. and He revealed to me this week that He wants to remove from our lives things from our past that will hurt our futures.  A few years ago I took my daughter Bree to Mozambique, Africa, on a missions trip to serve at an orphanage run by Roland and Heidi Baker.  We joined up with a team of about 20 others from all over the world.  This past week I came across our trip pictures so I took some time to look at them.  I thought this would be a joyful time of reminiscing.  After looking at just a few pictures I was hit with a sudden realization that I had repeatedly chosen to pursue other people instead of investing my time with my daughter, who was only 14 at the time.  At this point I did not even want to look at any more pictures because of the pain I was experiencing.  God was so graciously allowing me to see that time and again I had passed over Bree to be with others whom I perceived to be important.  Aauugghhh!  How could I have done this???
I know it was the Holy Spirit revealing this to me because there was no condemnation, just an assurance that He wanted to give me an opportunity to have things restored.  I immediately sought His forgiveness, knowing full well that I had not behaved in a manner that represented His heart.  At this point I chose to let the pain of my choices hurt for a while.  I have learned over the recent years that letting myself feel this kind of pain is good.  For many years I stuffed it down not allowing myself to feel it because it made me feel weak and 'bad'.  As the pain subsided I heard the Lord tell me that He makes all things new and that I had been completely forgiven.  A surge of hope washed over me.  I then sought Him as to what I needed to do next.
Yesterday I had a chance to talk to Bree and share with her what the Lord had shown me a few days prior.  The pain pierced me again as I vulnerably admitted to her that I needed her forgiveness for how I had seen past her needs and focused on the needs and approval of others.  What hurt even more was that she admitted she had been aware of my choices.  I asked for her forgiveness and she readily gave it to me.  It was powerful.  I felt released from any shame and guilt and my heart washed anew with love for her.
I share this for for a few reasons.  The first to give God glory for so graciously bringing something to the surface that could have harmed myself and Bree in the years to come.  Now it is all in the light and darkness will have no hold on it.  Secondly I want to point out that we do not need to go searching for things to be healed from.  God will bring things to light when we are at a place where we can deal with them and be victorious.  This is one of the fringe benefits of an intimate relationship with God.  We only need to ask and wait on Him.  He makes all things new in His time and He is always working on our behalf doing what is best for us.
Trust Him knowing fully that He desires for you to live Real. Life. Now.  He is good and He is gracious.  He always works things out for the good of those who love Him.  And that is YOU!
**If you would like to be notified when I post a new blog, please enter your email and press the "Follow Me" button on the right side of this post.**