I Can't See…So What Should I do?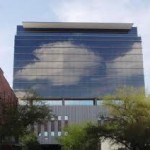 I have become all to familiar with the verse from John which reveals to us that Jesus only did what He saw the Father doing.  But, lately I have wondered if my interpretation of it is accurate.  I hear it quoted ALL THE TIME and I find myself feeling discouraged at times, and troubled when I question what that should look like in my own life.  If the truth sets us free then why am I not feeling liberated?
John 5:19 says, "So Jesus explained, "I tell you the truth, the Son can do nothing by himself. He does only what he sees the Father doing. Whatever the Father does, the Son also does."
When I read this verse I picture Jesus walking along looking up to heaven watching a video screen type thing playing out for Him all that the Father is doing so He can then do it on earth.  This is a bit exaggerated, but I wonder how many others think this way too.  I know my friend Kristina does because we have talked about it recently.  In my own life, I have tried looking up to see what God is doing before I do something.  I have even prayed for more faith to see all that Jesus supposedly saw, just like He saw it.  But still I look up and see the clouds and the sky, no video screen.  My heart desires to know what the Father is doing so that I can do it here and now.  In fact, because of this I often feel that I lack in my own ability to discern what the Father is doing and therefore I question if it is okay for me to pray for someone or if I should intervene in some way or not.  What a confusing mess!!!  Can you relate to this at all?
Feeling like I needed to come to a place of peace with all of this I decided to look up original Greek word for 'see' in John 5:19.  The word used there is: βλέπῃ(blepe).  This specific form of the word 'see' is used only once in the Bible.  It is translated as the word 'see' but it actually means 'he might perceptively-see".  So I looked up the word 'perceptive' and it is defined, "having or showing keenness of insight, understanding, or intuition."  I am now starting to feel some relief as my own understanding is being enlightened to this perceptive eye Jesus had of all the Father was doing.
When we perceive something we become aware of, know, or identify by means of the senses.  Jesus knew the Father's heart and since He had co-existed with the Father for eternity prior to coming to earth, He knew the nature of the Father.  He knew His Father was good.  He knew of His Father's great love for all people.  He had tasted and had seen the GOODNESS of God.  Jesus was able to perceive and do all that the Father would want done on earth because of this.  He did not walk around looking up to the heavens seeing and doing only that which He saw the Father doing literally.  He perceived and did what He knew God would do.
If you have ever wondered about this verse, I hope that this writing brings clarity and will release you to do as Jesus did in the authority He has given you to heal the sick, raise the dead, cleanse lepers, and cast out demons.  (Matthew 8:10)   If you long to know more of the Father's heart as Jesus did, ask Him to reveal His heart and His goodness to you.  The Scriptures are full of the the goodness of God and He longs to reveal His heart to every believer.  Jesus' 3 1/2 years of ministry constantly revealed this goodness to a dark world.  I suggest Mark Stibbe's excellent book called, "The 100 Verse Bible: The Essence of the World's Most Popular Book".  It reveals the Father's true heart and character to the reader.
I bless you as you pursue and walk out this greater revelation.  We are blessed with all spiritual blessings and lack no thing, nothing.
Psalm 27:13 says: "I am still confident of this: I will see the goodness of the Lord in the land of the living."
* Special thanks to my friend Kristina for her great insights which inspired me to write this blog.
**If you would like to be notified when I post a new blog, please enter your email and press the "Follow Me" button on the right side of this post.