Love Hurts…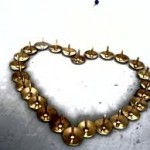 Something that is waking up inside of me these days is compassion.  I have lived for many years trying to avoid feeling because when you allow yourself to feel, often hurt is the emotion that you feel the strongest.  I do not believe you can enjoy and experience Real. Life. Now. until you allow the emotional part of you to come alive.  I am writing this right now from a place of deep pain, not because of rejection or a relationship gone bad, but because I have opened up my heart to really love…and sometimes love can really hurt.
My nephew Joel is a quadriplegic.  For the past two months I have had the opportunity to drive him to school on Wednesdays and spend the day with him.  It has been such an amazing time for both of us.  God is doing great things and is revealing Himself to us in new ways.  This year God has been stressing to me the importance of relationship so I have embraced this opportunity and have been so blessed.  I have felt so much joy as I have been able to watch God use what I have learned to help someone else.  I really look forward to my Wednesdays.
The deep pain I am feeling tonight is because Joel is in pain right now.  I hurt because he hurts.  He is in the hospital and everything about his situation is a big question mark.  So he is hurting, wondering if everything will turn out okay.  I visited him tonight and as I left my heart felt like it was breaking, being torn.  I could do nothing to help him, I couldn't fix anything, even my words seemed to lack.  As I walked out to meet up with my friends who had come with me, I let the tears fall and I allowed myself to feel the pain.  It hurt.  I believe I have realized what it means to be moved by compassion.
In the midst of this pain the Father reminded me that Jesus was moved by compassion and many of his miracles resulted from this.  It has been my heart's desire to see God heal people for many years.  I have seen awesome things – which I praise God for – but I yearn for so much more.  Everywhere I go I see the hurting and the sick.  I desire to do the greater things that Jesus promised us we would do in John 14;12, which says, "I tell you the truth, anyone who has faith in me will do what I have been doing. He will do even greater things than these, because I am going to the Father." (NIV)  If Jesus is the perfect example of the life we can attain, then we need to know and believe we will do greater things He spoke of.
As He ministered while here on earth, he was time and again 'moved by compassion.'  The result of this was that people's lives were powerfully touched and made whole.  Here are a few verses to illustrate this:
Moved with compassion, Jesus reached out and touched him. "I am willing," he said. "Be healed!"  Mark 1:41 NLT

Moved with compassion, Jesus touched their eyes; and immediately they regained their sight and followed Him.  Matthew 20:34 NASV

And when Jesus went out He saw a great multitude; and He was moved with compassion for them, and healed their sick.  Mattew 14:14 NKJV
If through being moved by compassion Jesus healed the sick, don't you think we can expect the same thing?  Take a moment, picture Jesus moving through a crowd and being moved with compassion.  Have you ever felt true compassion?  Try to remember a time right now.  To fully understand and visualize Jesus healing the sick we need to comprehend this, we need to relate to this first hand.  Jesus was moved, he was pierced with the pain of compassion.  He felt their pain and it hurt!
I am deeply stirred by this and know that God is going to show me more in the days to come.  If you have realized through reading this that you have shut yourself off from feeling what others feel, all you have to do is ask God to restore this in you and He will.  What He has done for me He will do for you.  He is your Restorer.  He worked mightily through the emotions Jesus felt and He desires to work mightily through yours too because He desires you to live and experience Real. Life. Now.  Go for it!

If you would like to be notified when I post a new blog, please enter your email and press the "Follow Me" button on the right side of this post.