Births and Umbilical Cords…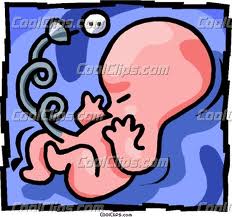 A few months ago I saw quote on Facebook that initially cracked me up, but now realize how much it really made me think about something I would not usually ponder and that is umbilical cords.  It read:
"You know what's funny?  Paintings of Adam and Eve where they both have belly buttons." ~ HigherThoughts.com
Cute, funny, thought provoking.  After all, of course Adam and Eve did not have belly buttons because they were created by God, not born from man.  Each one of us came into this world attached to an umbilical cord which had to be cut by a doctor or some lucky father first thing after birth.  We all have that much in common.  Today, however, I got a new revelation of them.  I was worshiping God, really focusing on Him, when into my head pops an image of an umbilical cord, kind of cartoon-ish, like in the image above.  I thought this was rather strange, but it was really apparent God was trying to show me something so I began to ask Him what He wanted to share with me.  I just love what it was.
Like I mentioned earlier, we were all born with an umbilical cord that had to be cut.  We were basically cut apart from the source that gave us life because we were ready to live and breathe on our own.  What God showed me today is that when we are born again, when we are spiritually born into the Kingdom, we are given a cord that is never cut.  We are forevermore attached to our Source.  Isn't that an awesome thing to picture.  Our Creator God, Father of the Universe, has provided a life source pouring into you His awesome and wonderful life and breath…forever.
Therefore if you have been born into the Kingdom of God, you now have a cord connecting you to your Abba Father.  He is and always will be your Source.  And just like your physical umbilical cord was connected to your belly, so your spiritual cord is connected to the innermost parts of your being where your spirit lives.  You are and will always be connected.  Take time and praise Him for that!  Now take a minute and picture Him connected to you and feel His life being poured into you.  His life in us is what transforms us into His image.  Be transformed and let His life flow into you continually!