Up Close and Personal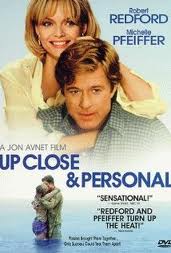 The 1996 movie, Up Close and Personal, starring Robert Redford and Michelle Pfeiffer, touched the hearts of many who hunger to see people be all that they were meant to be.  In the movie, Tally, an aspiring TV news reporter, defies all odds and goes after the career she knows she is meant to have even though women were not cast in these roles during which the plot of this movie was penned.  Tally knew and believed what was within her even though it was not perceived through the eyes of others.   She had to fight for others to see who she really was.  And she succeeded.
This is true of us too.  As I am on this journey to becoming real I realize some of my biggest hurdles have been to convince others of who I really am.  Some of this is my fault because for years I did not really like who I was so I became a person who I thought could be loved and respected.  I was very well liked, however… I was not happy.  I always felt fake, like I was a poser.  Deep within me there was so much potential left untouched and often I felt misunderstood and misjudged.  It was not a very rewarding existence.
I have now come to a point in my journey to becoming real in which I am convinced that there is only one person who knows who I am and that is God.  He carefully crafted and made me, creating me in His very image.  He is beckoning me to be 'up close and personal with Him'.  As I venture forward on this odyssey I am on I find I can see the real me in the eyes of the One who first beheld me and if I tune in to hear His voice I can hear the endless thoughts He has towards me.  Take a moment, quiet yourself and listen.  You have a life awaiting you that is more than you can ask or imagine.