Stinkin' Thinkin'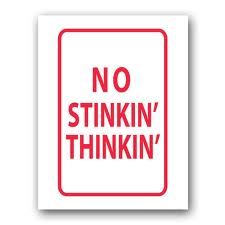 I think sometimes we need a reality check and take a close look at what we are really saying.  I see some of the craziest belief statements on Facebook. My friend recently shared with me a comment she had seen.  Here's basically what it said: "I'm not worthy to be married to ______."  or "I'm not worthy to pastor this church."  "I'm so unworthy, only Christ is worthy."  What is up with all of this?  What kind of thinking is that?   As Joyce Meyer would say, "That is stinkin' thinkin'"  Yet, these kinds of phrases abound in church settings.  I am going to be bold here and just say what I think this is.  Simply stated it is false humility.  Sauced up, juicy, syrupy false humility.  It sounds good but it gets really sticky when aligned with the truth of God and His Word.
God's word says much to oppose these kinds of statements.  Here are just a few to ponder:
~ We are made in His image (Genesis 1:27).
~ We have been given the mind of Christ (1 Cor. 2:16).
~ God gave His one and only Son for us (John 3:16).
~ We are chosen, made holy and dearly loved by God (Colossians 3:12).
~ We are the righteousness of God through Christ (2 Cor. 5:21).
~ We are children of God (Romans 8:16).
This above list could go on and on and on because God did so much for us so that we could be His representatives here on the earth.  He is pleased with us and proud of us.  Speaking of ourselves as unworthy comes directly from the pit of hell, not the gates of heaven.  This does not honor God our Creator at all.  I really wonder what people are REALLY thinking when they say these kinds of things.
I do understand that at times we think we are unworthy to be called sons and daughters of God, but even this stems from an incorrect understanding of who we are now that Christ is living with in us.  Look up some of the verses I listed above and speak them over yourself.  Personalize them and say them until you believe them.  Then, the next time you hear someone make a slanderous comment about being unworthy, you can speak truth into them.  Only the truth can set us free