You Matter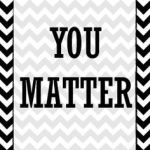 One of the biggest hindrances keeping us from living Real Life Now is the mindset that we don't have anything to bring to the table, that there are enough people out there getting things done. In a nutshell we believe we really don't matter. This is one of the biggest lies that is keeping the Kingdom from advancing into all that it is supposed to be. Jesus came to bring us the Kingdom and he gave us the job of establishing it here on the earth. If we truly understand Kingdoms we know that everyone has a role and everyone everyone has a purpose for existing.
You matter, you really do. My hope is that as you read this blog you will be awakened to the greatness that lies deep within you. I desire for you to become aware of how much God loves you and how much He wants you to know how valued and how significant you really are. I feel so strongly that I need to tell you again that you matter. You are important. You are not overlooked and you have not been left behind. Your greatest days are ahead. Jesus is your advocate and He is defending you and promoting you daily before the Father. Holy Spirit is ready to reveal truth to you so you can stand tall and strong knowing you are essential. Do not let fear or let anything rob you of the amazing desires God put deep within you. These desires are real and God so intentionally put them in you.
You are simply amazing! With the Spirit of God living and alive in you, you have everything you need to walk in every desire He put within you. Trust Him and take time to know Him. He is always ready and willing to share His heart with you. He knows you and eagerly awaits doing life with you. You really matter.
---
**If you would like to receive new blog post via email simply enter your email address below.**